Ok, so we're not actually in Norfolk.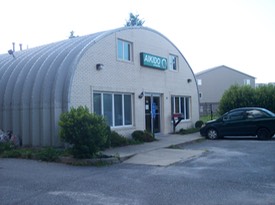 The dojo is the big round-topped metal building at 701 Baker Rd.,Virginia Beach, VA 23462, which is nearly in Norfolk.
We used to be in Norfolk, which is why we are Aikido of Norfolk. Got that?
If you're taking I64, exit at Northampton and make a right at the first stoplight, which is Wesleyan Dr. The third light on Wesleyan is Baker Rd. Make a right and go past the strip mall on the left. The dojo is on the right.
There is parking on the side and back of the building.