It's always a good idea to watch at least one class before joining the dojo. You should feel comfortable with the way classes are organized and run. Also take a copy of the dojo's waiver to read at home. Be clear as to your obligations for paying for classes.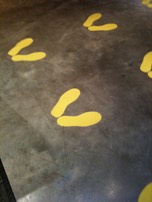 Our dojo doesn't use contracts. It's month by month. If you are looking at a dojo that uses contracts, make sure you understand all the terms, especially what happens if you cannot come to classes for whatever reasons. 
You should expect to pay your first fee when you take your first class. If you are joining in the middle of a month, ask if you can prorate the month. Our monthly class fees are due at your first class each month. That's when we pay our bills. 
We don't have a stock of uniforms at our dojo, so you can buy your own on the Internet. In our dojo, you can also just wear sweats. 
There is a" hold harmless" waiver to sign, just like at the gym.