The first Aikido of Norfolk was started in 2004, over on Virginia Beach Blvd, which is in Norfolk. In 2007 we moved to the current location on Baker Rd, which is in Virginia Beach. This is why we are Aikido of Norfolk in Virginia Beach. Is that clear?
We have Men's and Women's changing rooms and a little lounge area just off the mat. Two bathrooms, but no showers.
Parking is down the sides and behind the building.
The dojo is not a gym or a spa or a practice mat. O-Sensei considered it a place of purification, a spiritual space. When  you enter the dojo, you can drop all your other concerns with your shoes. Let your cares fall away as you bow at the edge of the mat.
When Terry Dobson started the Vermont AIkikai their dojo was a grassy field with a picture of O-Sensei propped up between a pair of cowboy boots. It doesn't have to look like Chartres.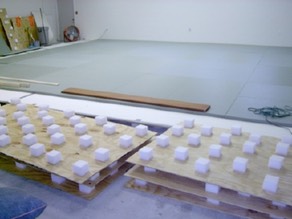 Mat:
It's an old guy's mat, designed by a bunch of old Judo guys, looking for a little comfort in their oldness. The top layer consists of 66 Zebra mats. Then there is a layer of quarter inch foam. Below that  are two layers of plywood sheets, attached to each other, but free floating from the walls. Under each sheet of plywood are glued 36 squares of three inch close cell foam cubes. The impact of your body on the mat is diffused away rather than bouncing back up your spine.  It's a great combination of firmness under foot and giving under impact. 
We did not think it up ourselves.
Kamiza:
The Kamiza is the center point of the dojo. When getting on and off the mat, it is appropriate to bow in the direction of the Kamiza. This is not a religious practice; it is more like opening and closing a door. We also bow before and after class. If you have any objections to the practice, don't do it. If you go and visit another school, inquire about their etiquette practices as they might be different. Since our Kamiza is not an official Shinto shrine, we do not perform any additional rituals, such as clapping.